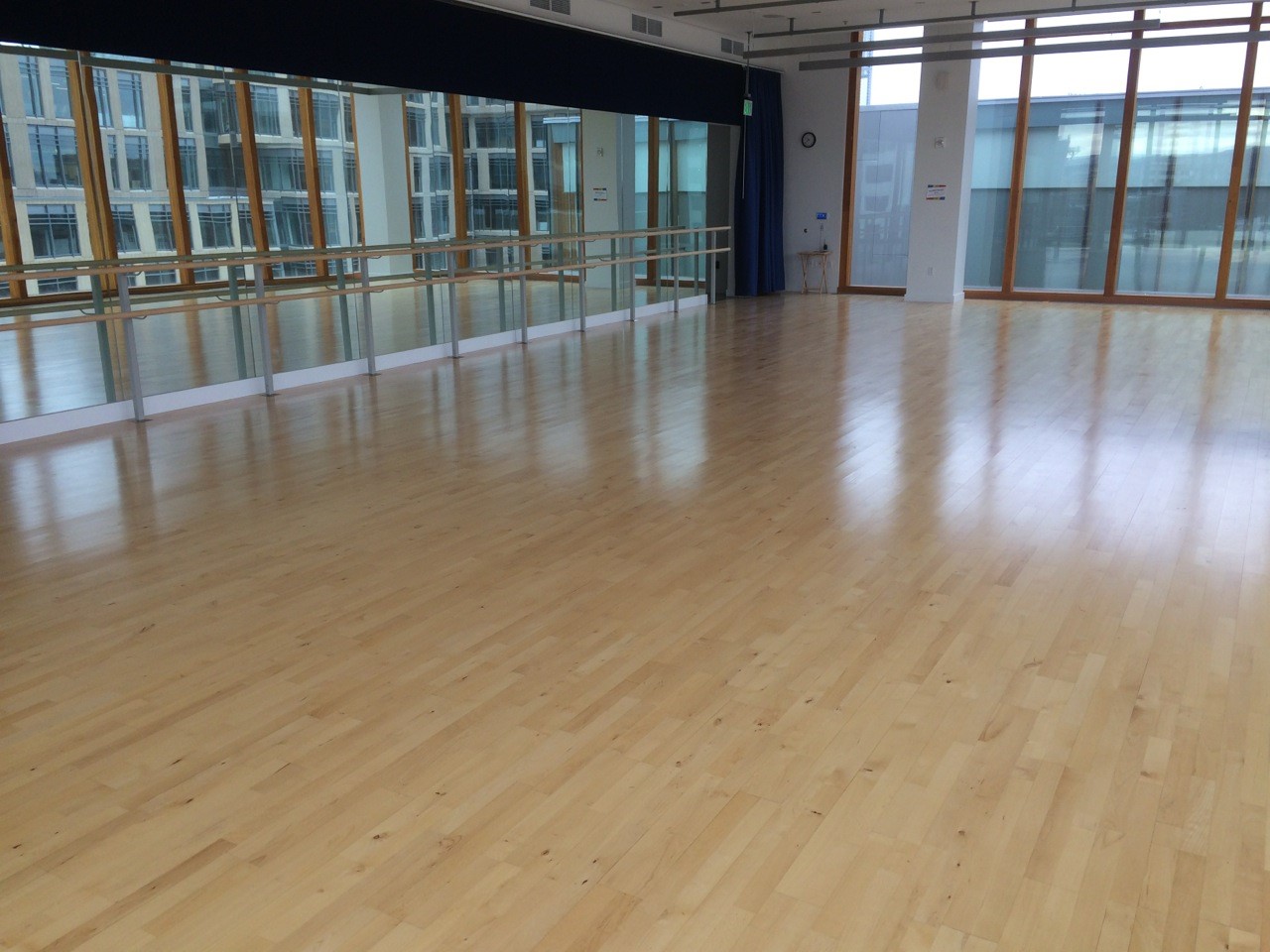 The #500 Elite Springflex Hardwood Dance Floor System
March 15, 2020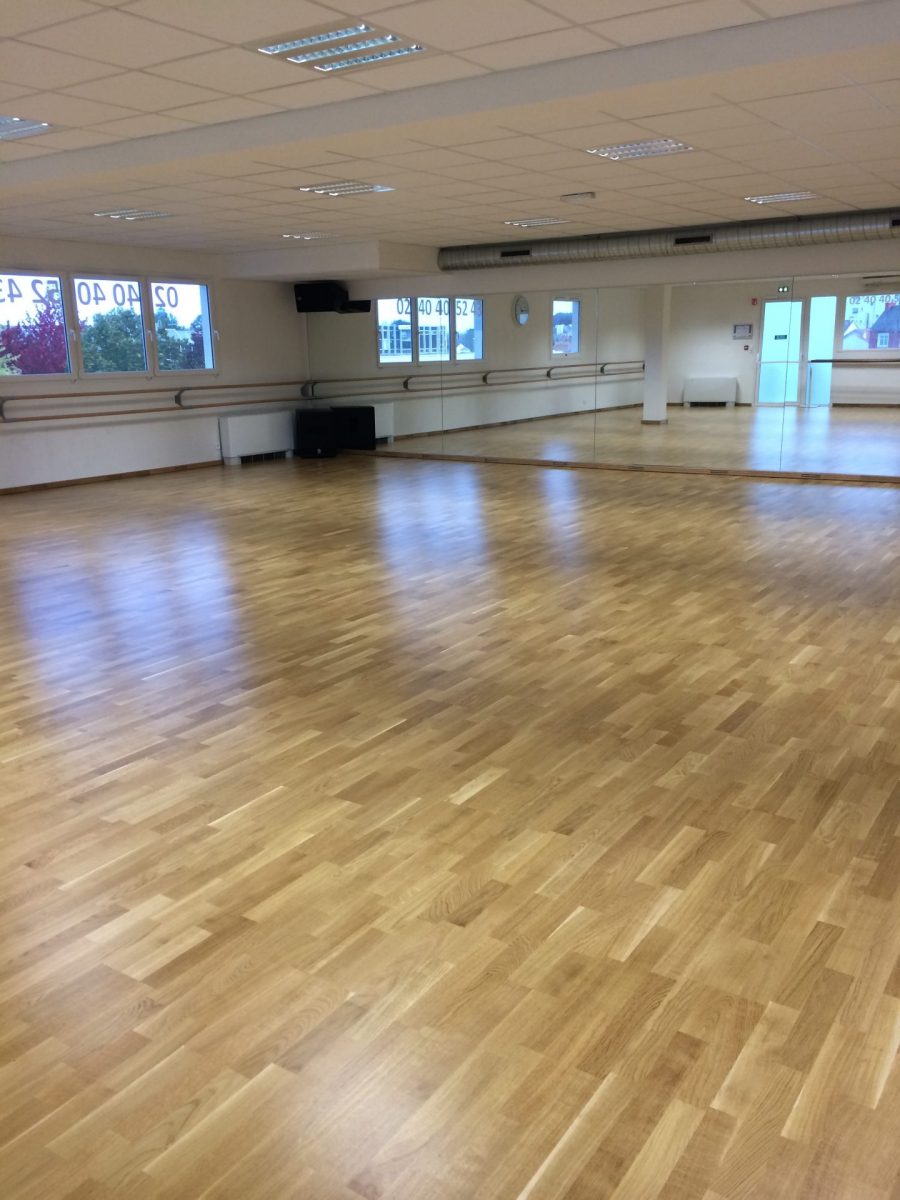 The #825 Oak-Flex Dance Sprung Hardwood Floor
December 14, 2020
The #850 Maple-Flex Dance Sprung Hardwood Floor is one of the best performing sprung flooring options available. It has built-in shock absorption. There's traction on the wood surface. And it's easy to install. Immediately after installation, the floor is ready to dance on. This makes it an excellent choice for any facility, new or existing, such as:
Dance studios
Performing arts spaces
Sports, park, and recreation centers
Aerobics, Pilates, and yoga studios
Elementary, middle, and high schools, and universities
Physical therapy facilities
Multi-purpose room
Your own personal residence
The #850 Maple-Flex dance floor is a permanent installation and it is designed to last.
For more information on sprung floors, please be sure to check out our Sprung Dance Floors: The Ultimate Guide.
Specifications and Performance
The flooring system is a fully suspended sprung dance floor with a factory pre-finished 1/8" maple wood surface. It is a low-profile floor, with a finished height of 1 1/8" and can be installed anywhere hardwood would be considered.
Each board for the flooring system is 5 7/16″ wide tongue and groove, 1 1/8″ thick, 7′ long and weigh 2.3 lbs. per sq. ft. Boards are made out of a composite of Birch plywood with a top layer of 1/8" factory pre-finished Maple wood which can be re-screened or refinished several times.
Shock Absorption.
The #850 Maple-Flex Dance Sprung Hardwood system is a progressive shock absorbing floor due to the special built-in Evazote 50 foam under the full length of the board. Evazote 50 foam strips are closed-cell cross-linked ethylene co-polymer foam. Evazote 50 foam is a tough foam that is strong and resilient. Evazote Foams are used in the construction industry and are widely used in a range of sports applications.
With the foam running the full length of the boards, the #850 Maple-Flex Dance Sprung Hardwood system design provides even suspension on all points of the floor. This means you will not find hard or soft spots on the finished floor surface. It has been tested with 45,000 test loadings without loss of its elastic characteristics.
Durability
This design structure can also withstand heavy loads. The tongue/groove connection in the floor has been stressed 100,000 times without damage.
Traction
The #850 Maple-Flex Dance Sprung Hardwood system have a degree of traction provided in the finish. There is a sport lacquer finish on the maple hardwood surface. The finish seals the hardwood for superior durability and helps provide a safe traction coating. These types of finish also make the maintenance and cleaning of the floor easier and more hygienic.
DIN Standard Certified
The #850 Maple-Flex Dance Sprung Hardwood floor is DIN standard certified. The DIN standard 18032 Section 2 test was approved by the SINTEF (formerly the Norwegian Building Research Institute). DIN standards test the shock absorption, resilience, surface friction, surface stability, and impact isolation, to help prevent injures such as shin splits, stress fractures, back problems, twisted ankles, foot rollovers, muscle strains etc.
Installation
The #850 Maple-Flex Dance Sprung Hardwood flooring system installs quickly and easily. Simply glue the boards to each other. There is no nailing. With the included glue, the boards form a smooth, undetectable joint making a totally smooth, flat surface with a Maple wood finish ready to dance on immediately after installation.
When installing the #850 Maple-Flex Dance Sprung Hardwood flooring system the tongue and grove boards fit together very snugly. Just a small amount of glue is required. Remember more is not better. If too much glue is applied you can float the joint with glue and may not be able to get a tight fit within the tongue and groove board. If any glue comes out onto the finished surface remove the glue immediately with a damp cloth, do not allow the glue to dry on the finished surface.
After installing the #850 Maple-Flex Sprung dance floor, you may choose to cover the dance floor surface with sections of Marley performance surface vinyl flooring. The #850 Maple-Flex Dance Sprung Hardwood flooring system also provides the proper sprung wood flooring for underneath any vinyl surface. Having a finished dance sprung hardwood floor surface provides a space that is multi-purpose for other venues or performance needs.
Please refer to the installation guide for the following information on:
moisture content
installing over concrete
placement of the first boards with expansion gap.
Cleaning & Maintenance
Depending on the usage, regular cleaning and maintenance may need to be done daily, 2-3 times a week, or once a week. This will keep the dust and dirt down to a minimum. Oils from bodies and sweat cannot always be seen on the wooden floor surfaces but are present. Cleaning and maintenance should include sweeping, dust mopping, and/or using a vacuum cleaner.
To clean the floor, Bona Kemi hardwood floor cleaner has been Dance Equipment International's recommendation.  Simply spray the dust mop head lightly with the Bona Kemi cleaner and wipe the entire floor surface. If you chose to lightly mist directly on the floor, then it should be dried immediately with a dry mop. Only a light mist is necessary with the Bona Kemi.
If a janitorial service is used, make sure they are aware of the correct way to clean the floors and the ideal products for the wood dance floors. Remember water should never be used. And never allow liquid to sit on the wood flooring. If any liquid goes down into the seams, that is not good for any wooden floors or the sub-floor underneath.
If you choose a different hardwood floor cleaner, besides the Bona Kemi, make sure it contains no wax or oil soap. These products will trap dirt and grime and eventually leave your hardwood floor dull in appearance, slippery or too sticky. Wax build up will also make the re-coating of you floor more difficult.
Dance Equipment International wants to use our experience and knowledge in helping you make your decision for the proper Sprung Flooring. Dance Equipment International's friendly knowledgeable sales consultants are ready to assist you with information, quotes, and technical support to make buying the right dance equipment easy and stress free. Increasing discounts are available for purchases of larger quantities. Call us at 1-408-267-1446 or toll free at 1-800-626-9258.