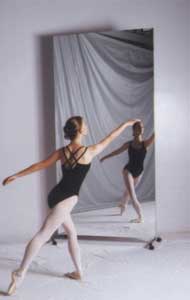 Mirrorlite™ Glassless Mirrors
This glassless mirror is brighter and has a sharper reflection than plate glass. It is non-fogging, has no distortion, and no ghost image. Completely shatter proof to prevent client injuries and eliminate liability. It is lightweight, a 4' x 8' mirror weighs only 12 pounds. They are made of a highly reflective mylar flexible film. The glassless film is very durable and tough, but can be damaged by sharp instruments. If cared for properly it should last indefinitely. Our glassless mirrors are UL fire retardant rated for safety (BLBT.R7754). Available in freestanding rollable models, or wall mounted models. *Samples are available for $35.00 each. Sample cost is deductible from any mirror order placed within 60 days from date on sample invoice.
Ask us about our large quantity discount on mirrors.
Mirror Types
Wall Mounted Mirror
Vertical Mirror With Rolling Floor Stand
Horizontal Mirror With Rolling Floor Stand
Wall Mounted Mirror
Style #
Description
Retail Price
Your Price
#DW-K004W
Wall Mirror 24" x 72" x 1-1/4" THK
(2' x 6')
$428.50
$310.50
#DW-K021W
Wall Mirror 24" x 84" x 1-1/4" THK
(2' x 7')
$478.50
$334.50
#DW-K013W
Wall Mirror 24" x 96" x 1-1/4" THK
(2' x 8')
$494.00
$338.50
#DW-K014W
Wall Mirror 36" x 72" x 1-1/4" THK
(3' x 6')
$499.00
$351.50
#DW-K022W
Wall Mirror 36" x 84" x 1-1/4" THK
(3' x 7')
$517.50
$364.50
#DW-K015W
Wall Mirror 36" x 96" x 1-1/4" THK
(3' x 8')
$527.00
$368.50
#DW-K016W
Wall Mirror 48" x 72" x 1-1/4" THK
(4' x 6')
$548.00
$365.50
#DW-K023W
Wall Mirror 48" x 84" x 1-1/4" THK
(4' x 7')
$563.00
$393.50
#DW-K017W
Wall Mirror 48" x 96" x 1-1/4" THK
(4' x 8')
$571.00
$399.50
#DW-K026W
Wall Mirror 60" x 60" x 1-1/4" THK
(5' x 5')
$587.00
$451.50
#DW-K016W60
Wall Mirror 60" x 72" x 1-1/4" THK
(5' x 6')
$592.00
$435.50
#DW-K024W
Wall Mirror 60" x 84" x 1-1/4" THK
(5' x 7')
$646.50
$493.50
#DW-K017W60
Wall Mirror 60" x 96" x 1-1/4" THK
(5' x 8')
$691.00
$527.50
#DW-K027W
Wall Mirror 60" x 120" x 1-1/4" THK
(5' x 10')
$1,239.00
$1,041.50
#DW-K028W
Wall Mirror 60" x 144" x 1-1/4" THK
(5' x 12')
$1,521.00
$1,382.50
#DW-K018W72
Wall Mirror 72" x 72" x 1-1/4" THK
(6' x 6')
$844.00
$555.50
#DW-K025W
Wall Mirror 72" x 84" x 1-1/4" THK
(6' x 7')
$924.00
$650.50
#DW-K019W96
Wall Mirror 72" x 96" x 1-1/4" THK
(6' x 8')
$1,025.00
$665.50
#DW-K029W
Wall Mirror 72" x 120" x 1-1/4" THK
(6' x 10')
$1,396.00
$1,246.50
#DW-K030W
Wall Mirror 72" x 144" x 1-1/4" THK
(6' x 12')
$1632.00
$1,483.50
#DW-MEGA-7X7
Mega Wall Mirror
84" x 84" x 1-7/16" THK
(7' x 7')
$1,061.50
$915.00
#DW-MEGA-7X8
Mega Wall Mirror
84" x 96" x 1-7/16" THK
(7' x 8')
$1,215.00
$1,045.00
#DW-MEGA-7X10
Mega Wall Mirror
84" x 120" x 1-7/16" THK
(7' x 10')
$1,515.00
$1,306.00
#DW-MEGA-7X12
Mega Wall Mirror
84" x 144" x 1-7/16" THK
(7' x 12')
$1,820.00
$1,569.00
#DW-MEGA-8X8
Mega Wall Mirror
96" x 96" x 1-7/16" THK
(8' x 8')
$2,120.00
$1,827.50
#DW-MEGA-8X10
Mega Wall Mirror
96" x 120" x 1-7/16" THK
(8' x 10')
$2,695.00
$2,283.50
#DW-MEGA-8X12
Mega Wall Mirror
96" x 144" x 1-7/16" THK
(8' x 12')
$4,039.00
$2,605.50
#DW-MEGA-10X10
Mega Wall Mirror
120" x 120" x 1-7/16" THK
(10' x 10')
$4,508.00
$3,025.50
#DW-MEGA-10X12
Mega Wall Mirror
120" x 144" x 1-7/16" THK
(10' x 12')
$5,155.00
$3,436.50
#DW-MEGA-12X12
Mega Wall Mirror
144" x 144" x 1-7/16" THK
(12' x 12')
$7,430.00
$5,804.50
Vertical Mirror With Rolling Floor Stand-Mirror bottom height from floor = 3 ½" inches
Style #
Description
Retail Price
Your Price
#DRFS-K004V
Vertical Rolling Stand Mirror
24" W x 72" H (2' x 6')
$633.00
$416.50
#DRFS-K021V
Vertical Rolling Stand Mirror
24" W x 84" H (2' x 7')
$642.00
$439.50
#DRFS-K013V
Vertical Rolling Stand Mirror
24" W x 96" H (2' x 8')
$659.00
$442.50
#DRFS-K014V
Vertical Rolling Stand Mirror
36" W x 72" H (3' x 6')
$663.00
$460.50
#DRFS-K022V
Vertical Rolling Stand Mirror
36" W x 84" H (3' x 7')
$668.00
$473.50
#DRFS-K015V
Vertical Rolling Stand Mirror
36" W x 96" H (3' x 8')
$697.00
$477.50
#DRFS-K016V
Vertical Rolling Stand Mirror
48" W x 72" H (4' x 6')
$669.00
$487.50
#DRFS-K023V
Vertical Rolling Stand Mirror
48" W x 84" H (4' x 7')
$718.00
$509.50
#DRFS-K017V
Vertical Rolling Stand Mirror
48" W x 96" H (4' x 8')
$741.00
$514.50
#DRFS-K015V60
Vertical Rolling Stand Mirror
60" W x 60" H (5' x 5')
$749.00
$554.50
#DRFS-K016V60
Vertical Rolling Stand Mirror
60" W x 72" H (5' x 6')
$744.00
$535.50
#DRFS-K024V
Vertical Rolling Stand Mirror
60" W x 84" H (5' x 7')
$757.00
$654.50
#DRFS-K017V60
Vertical Rolling Stand Mirror
60" W x 96" H (5' x 8')
$947.00
$681.50
#DRFS-K018V72
Vertical Rolling Stand Mirror
72" W x 72" H (6' x 6')
$952.00
$670.50
#DRFS-K025V
Vertical Rolling Stand Mirror
72" W x 84" H (6' x 7')
$1,071.00
$759.50
#DRFS-K019V96
Vertical Rolling Stand Mirror
72" W x 96" H (6' x 8')
$1,109.00
$775.50
Horizontal Mirror With Rolling Floor Stand-Mirror bottom height from floor = 24" inches
Style #
Description
Retail Price
Your Price
#DRFS-K016H
Horizontal Rolling Stand Mirror
72" W x 48" H (6' x 4')
$757.00
$584.50
#DRFS-K007H
Horizontal Rolling Stand Mirror
84" W x 48" H (7' x 4')
$769.00
$578.50
#DRFS-K017H
Horizontal Rolling Stand Mirror
96" W x 48" H (8' x 4')
$794.00
$583.50
#DRFS-K016H60
Horizontal Rolling Stand Mirror
72" W x 60" H (6' x 5')
$815.00
$599.50
#DRFS-K008H
Horizontal Rolling Stand Mirror
84" W x 60" H (7' x 5')
$857.00
$664.50
#DRFS-K017H60
Horizontal Rolling Stand Mirror
96" W x 60" H (8' x 5')
$905.00
$696.50
#DRFS-K009H
Horizontal Rolling Stand Mirror
84" W x 72" H (7' x 6')
$1,147.00
$882.50
#DRFS-K019H7296
Horizontal Rolling Stand Mirror
96" W x 72" H (8' x 6')
$1,228.00
$889.50
#DRFS-K027H12060
Horizontal Rolling Stand Mirror
120" W x 60" H (10' x 5')
$1,414.00
$1,131.50
#DRFS-K029H12072
Horizontal Rolling Stand Mirror
120" W x 72" H (10' x 6')
$1,655.00
$1,356.50