Mirrorlite™ Vertical Mirror Rolling Stand Assembly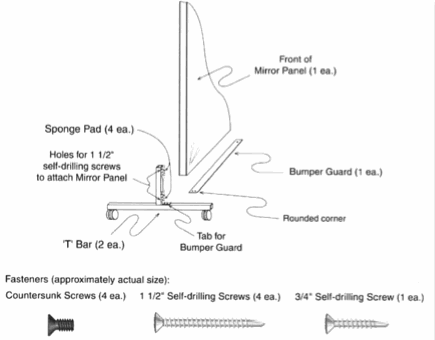 Keep the clear plastic sheet over the mirror face to help protect it while mounting the bases.
Attach Bumper Guard to tabs in 'T' Bars using the 4 Countersink Bolts provided.  Align rounded corner of Bumper Guard to rounded corner of tab for Bumper Guard.  Tighten these Countersink Bolts completely with a Philips head screwdriver.
Have a helper hold Mirror Panel centered on base.  Side edges of Mirror Panel should be centered and flush with vertical side edges of 'T' Bar.
Drill drive four 1 1/2" Self-drilling Screws through the holes in the vertical square tube of 'T' Bar into the Mirror Panel's aluminum frame.  Tighten screws up to the point where sponge pads on 'T' Bar begin to slightly compress.  Be careful not to over tighten screws to avoid stripping. Do not press excessively on mirror surface.
Plastic protective cover may now be removed from Mirror Panel.
Repeat process of drill driving through hole in Bumper Guard using 3/4" Self-drilling Screw. Secure Bumper Guard to bottom of Mirror Panel frame using the one 3/4" Self-drilling screw provided.  Do not over tighten screw.