Marley Dance Floor: The Ultimate Guide
May 6, 2019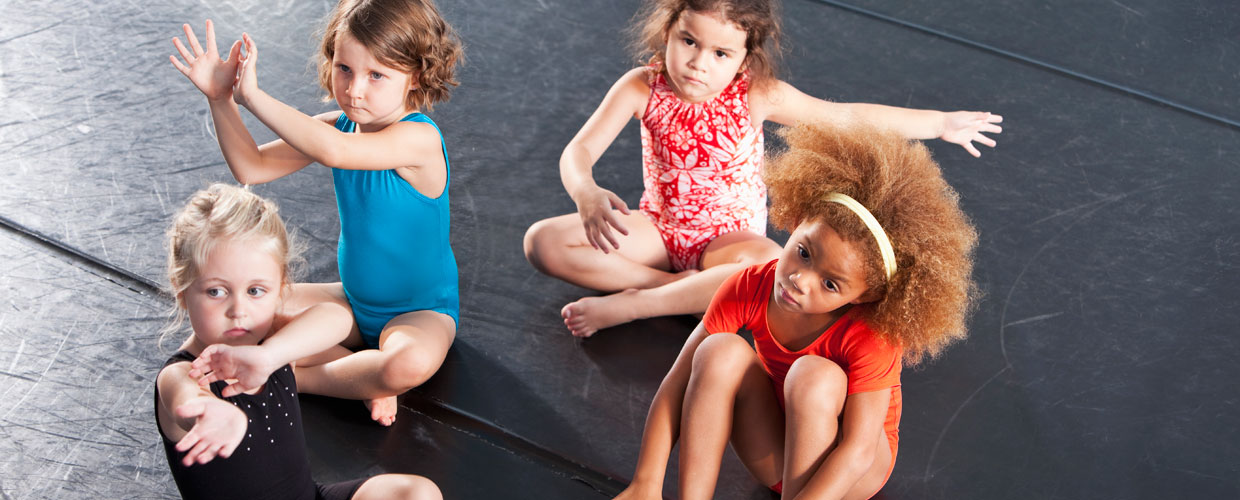 Portable Dance Floor
November 8, 2019
Mirrors are great anytime you need visual feedback.  For example, mirrors are great for dancers, weight lifters, and musicians.  Glassless mirrors are a relatively new type of mirror and you should definitely think about purchasing one. 
This guide will help you decide if a glassless mirror is right for you.  You'll learn about:
What is a Glassless Mirror?
Glassless mirrors are a new mirror technology.  They are made out of a highly reflective mylar flexible film, which is very durable and tough. No plate glass is used to create the reflective image.
This new technology is so durable, that NASA uses it in the Hubble Space Telescope!
Glassless mirrors consist of a rigid foam core framed by aluminum. The frame has a raised lip around the four edges.  A highly reflective metalized mylar film is stretched across the raised edges to form the mirror surface.
Since the mylar film is mounted on raised edges, an air space is created between the back of the film and the core. The air space is 1/8 of an inch wide between the mylar film and the foam core.  This design allows the mylar film to flex under minor impact without damage.
As previously mentioned, glassless mirrors are made out of a mylar flexible film.  They can scratch and be punctured with sharp objects.  However, they will not shatter which is a major safety feature we will discuss below.

Benefits of Glassless Mirrors
There are many benefits of glassless mirrors over glass mirrors.  Here are few:
Sharper and brighter reflection than plate glass
Light weight compared to plate glass (on average they are 85% lighter than glass mirrors of the same size)
Non-fogging
Free of distortion
No ghost image
Shatter proof
Safer
Safety Benefits of Glassless Mirrors
Since the mylar film is shatterproof, it is considered much safer in establishments that traditionally have large amounts of glass around their customers.  For example dance studios, schools, gyms, bars, etc…
Without dangerous shards of glass, glassless mirrors significantly reduce the likelihood of injury and minimize exposure to liability claims. This may in turn reduce the annual business insurance costs.
For example, many school districts and government agencies will not allow standard glass mirrors to be installed due to liability claims. Glassless mirrors are the safe and cost-effective alternative.
Venues Where Glassless Mirrors Are Installed
Glassless mirrors can be considered anywhere plate glass mirrors may be installed.  Venues that traditionally use mirrors, like dance studios, can take advantage of the benefits of glassless mirrors.
Other venues include: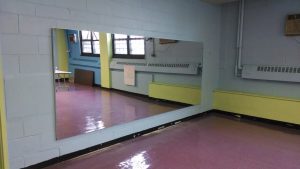 Fitness gyms
Stage events like orchestra, band, theaters
Architectural interiors
Trade and exhibition shows
Schools
Visual and performing arts facilities
Physical therapy departments
As well as residential use.
Wall Mounted vs. Rolling Stand Mirrors
Glassless mirrors come in two forms: wall mounted or rolling stands.  This section will go over the differences in specification and installation of all the different types of the glassless mirrors.
Wall Mount
Wallmount glassless mirrors can go on any wall surface with little or no preparation. Each mirror comes with adjustable wall brackets with slotted mounting holes. (Click here for wall mount glassless mirror specifications)
The slotted mounting holes allow for minor adjustment in vertical and horizontal directions that offer perfect alignment for adjacent mirrors.
Glassless wall mount mirrors are lightweight and are easily installed. Because of its light weight, wall inserts and supports are eliminated. The glassless wall mount mirrors can be mounted directly to finished plaster, wood paneling and interior partitioning
Wall mount glassless mirrors come with a "L" bracket on top and bottom with screws to attach the bracket to the frame. Customers can use various screws based on the type of wall it will be going onto (Sheetrock, cider walls, wood paneling etc.).
Quick tip: Keep the clear plastic sheet over the mirror face to help protect it while mounting.
Glasses wall mount mirrors are made in many standard sizes and can go up to Mega size.  Mega glassless mirrors allow for theater sets to have minimal seams. Seamless imagery is critical for photography and video shoots, allowing for unique perspectives for the camera or audience.
If Mega glassless mirrors are going to be considered in your facility, make sure you have rollup doors or an entrance dock, so the length and width can fit into your facility.
Ballet Barres And Wall Mount Glassless Mirrors
If traditional glass mirrors are being used with ballet barres, generally the brackets would go up first cutting the glass mirrors around the brackets. This leaves the glass fragile and will have weak spots which may easily crack the mirrors.
Ballet barres cannot be attached directly to the glassless mirrors. Generally, the ballet barres would go on the opposite wall of the glassless mirrors.
However, it is possible to mount the mirrors on the same wall as the ballet barre.  To do so, you would use a 1″ x 6″ or 2″ x 6″ wood strip which would go the entire length of the wall.
Then install the ballet barre brackets directly onto the wood strip.  The glassless wallmount mirrors will then be mounted horizontally above and below the wood strip.
Another option would be to use portable ballet barres or floor mount ballet barres in front of the wallmount glassless mirrors.
Vertical & Horizontal Rolling Stand Glassless Mirrors
Glassless rolling stand mirrors are a great alternative if you don't have wall space for wallmount glassless mirrors.  The best part, they can be easily moved and stored if need be.
Glassless mirrors are on rolling stands and are also known as portable dance mirrors. Because glassless mirrors are lightweight they can be rolled about very easily and maneuver well for different needed venues.
The rolling stand feature is fantastic for venues that want to use them for multiple purposes. For example, you can use them in a dance auditorium at a school then roll them outside so the band can watch themselves practice.
Here are some other features about rolling mirrors to consider:
Stand with casters included
Internal aluminum frame
Single reflective side
Can mount vertically or horizontally on stands
Thickness: 1.25″
Easy assembly
Made in the USA
Fire rated. For example, Dance Equipment International glassless mirrors are certified by underwriters Laboratory UL Fire Retardant rated for safety (BLBT.R7754)
Not designed to be leaned against
Not designed to be intentionally hit with exercise balls, etc
Vertical rolling stand mirrors sit 3.5″ off floor when attached to stand.
Horizontal rolling stand mirrors sit standard at 24″ from the floor to bottom of mirror. There is an option to have the horizontal rolling mirror 12" from the floor.
Minor assembly required
The wheel base is about 18″ long, 9″ in front of mirror and 9″ behind mirror, which provides stability against tipping.
Glassless Vertical and Horizontal rolling mirrors are made in many different sizes.
Cleaning and Maintenance
Maintaining and cleaning a glassless mirror isn't much different than cleaning a traditional glass mirror.  However, do not press the reflective mylar film against the interior backing.  This can result in abrasions and discoloration of the reflective material.
To clean the Glassless mirror panels, you use a nonabrasive household liquid or foam window cleaner, like "Glass Plus" without ammonia or phosphates.  Soft, lint-free plain cotton cloth is suitable and can be used to dust off the mirrors as well.
For light cleaning, such as fingerprints, spray a small amount of the cleaner on the cloth and wipe.  For larger areas, spray the cleaner on the face of the mirror and gently wipe dry.
Light scratches may be concealed by spraying them with carnuba wax (like Pledge) and polishing gently.  Minor dents or wrinkles, resulting from improper or rough handling, may often be removed with a heat gun or hot air blower that does NOT exceed 350*F.  Hold the heat source approximately one half inch above the area.  Slowly move the blower back and forth and the dent or wrinkle should tighten.
Have more questions?
Dance Equipment International's friendly knowledgeable sales consultants are ready to assist you with information, quotes, and technical support in buying glassless mirrors.  Discounts may be available on large quantities.
Call us at 1-408-267-1446 or toll free at 1-800-626-9258.